That Perfect Valentine's Day Meal
That Perfect Valentine's Day Meal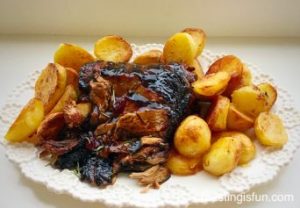 It's that time of year again, the shops are starting to fill with everything 'love' and you can't move for a a red sea of tack, in many cases. But at Graig Farm we're here to give you some top tips on how to make this valentine's day that extra bit special for your loved one!
Every year it's nearly impossible to get booked into a restaurant for the day of valentines day or the weekend before and after! So why not just have a romantic meal for two at home? Nothing says I love you more, or 'Happy Valentine's Day', like a fantastic home cooked meal. Using exceptional quality organic produce, creating the most flavorful meal you can is obviously a must, and fortunately at Graig Farm we've got stacks for you! But, before we get down to a selection of luscious meals you can quite easily create for your loved one, it's all about setting the scene.
Creating The Right Atmosphere
This should really go without saying, but if you're going to cook a homemade meal for Valentine's Day you'll have to create the right romantic setting. The littlest of touches can really go that extra mile, even if it down to a small bunch of flowers waiting on the table. Candles are obviously a necessity if you're creating that typical romantic atmosphere, the cliches aren't always a bad thing, they are cliches for a reason after all! Adding any personal touches, that you know will make your other half smile or laugh is always a fantastic idea!
 
A Sensational Meal For Two
Cooking a homemade meal for your valentine can go one of two ways, you get it perfectly spot on and you partner is over the moon and it really makes the whole night, it can go so badly that it creates a special memory and is a lasting funny story. Of course you can create a meal that's pretty mediocre that your other half (especially if the whole relationship is fairly new) is too polite to say so but secretly hates it; try not to fall into into the latter! At Graig Farm we have an exceptional selection of organic and additive free locally farmed and sourced meat and vegetables for you to choose from to create that perfect romantic meal for two. finding that recipe that speaks out as the one that will really impress can be a difficult task, especially if you have so much riding on the meal! So at Graig Farm we've picked one of our favourites, that we know is guaranteed winner when it comes to a flavourful meal, and it's also not too hard to cook!
Rack of Lamb with New Potato, Onion & Thyme Gratin
What you need:
1 x Graig Farm Organic Rack of Lamb
400g Graig Farm Organic Potatoes - Sliced
1 x Graig Farm Organic Onion - Finely Sliced
½ Bunch Thyme - Few sprigs reserved to garnish
3 x Garlic Cloves - Finely Sliced
200ml Chicken or Lamb Stock
2 x Tablespoons of Vegetable Oil
The Recipe:
Pre-heat oven to around 180 ºC, or gas mark 4. Heat a roasting tin while coating your lamb with 1 tbsp of vegetable oil, some salt and black pepper. Place the lamb skin -side down on the now fairly hot roasting tin, until the fat has turned brown and seared all over. Transfer the lamb to a plate.
Add the finely sliced onion into the roasting tin, cook until soft - about 10 minutes. Commence by stirring in the sliced potatoes, finely sliced garlic, thyme and your choice of stock, and press down with a spoon - helps to get the most out of the flavours!
Place the already seared rack of lamb on top, and roast in the oven. Usually around 25-35 minutes, depending on how you like your lamb, and until the potatoes are tender.
Leave to rest under some foil for around 10 minutes. slice the lamb into cutlets - depending on your serving size. Serve with a spoonful of potatoes and a sprinkling of the remaining thyme.
Enjoy!
For more great recipes take a look at our full collection of archives, available at Graig Farm.