Recipe: Roast Beef with Red Wine & Banana Shallots
Recipe: Roast Beef with Red Wine & Banana Shallots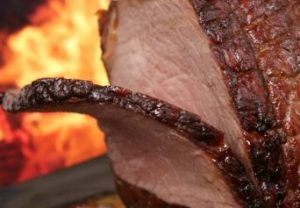 Our latest recipe from Graig Farm is a gorgeous and succulent Roast Beef with Red Wine & Banana Shallots. With spring fast approaching we've gone for a recipe that would be perfect on a Sunday lunch during the spring months. Ideal for impressing at a dinner party, as it should feed around 6-8 people!
What You Need:
2 Kg Graig Farm Organic Beef Topside
1 Tablespoon Vegetable Oil
1 Tablespoon Halen Mon Welsh Sea Salt
1 Tablespoon of English Mustard 
2 Large Organic Carrots - Both cut lengthways
12 Banana Shallots - Peeled and halved lengthways
2 Bay Leaves
2 Tablespoons Plain Flour
300ml Red Wine
500ml Organic Beef Stock
2 Tablespoons Redcurrant Jelly
The Method:
Start by leaving the Topside of Beef rest in room temperature for roughly one hour before you roast it. Heat the oven to around 200/220º C. Dry The meat with kitchen towels, and begin by rubbing vegetable oil over the meat.

Mix the mustard, sea salt and 1 tsp of pepper, rub over the beef. Place the carrots in a large roasting tin, leaving space to rest the beef on top comfortably, remember to face fat side up.

Roast for 15 minutes, turning the heat down to around 180º C, roasting the beef for another 55 minutes - this should give you that medium rare cook.

When there's around 30 minutes cooking time left, baste the beef in the fat that should have pooled in the tin, allowing the flavours to seep right through into the topside of beef. Add the shallots, bay leaves. While doing this you should also be boiling the wine in a small saucepan.

When the beef is ready take out of the oven, cover with foil and place back into the over for a further 10-15 minutes, just until the shallots are tender.

Scoop out the shallots and set them aside to warm. Remove any excess fat from the tin, leaving around 1-2 tsp of juice behind.

Add the flour to the remaining dark juices and cook on the hob for around 2 minutes, stir constantly. gradually add in the red wine, stock and redcurrant, allow to bubble until thickened and rich.

Discard the carrots and serve the beef with your homemade gravy and the now tender and warm shallots.
Enjoy!