Organic Chicken Salad Recipe
Organic Chicken Salad Recipe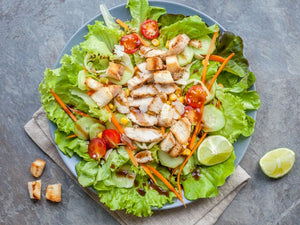 Summer's here, which means it's time to fire up the barbeque and enjoy mealtimes outside. The warmer weather is a great excuse to eat in the garden with the family and make use of the sunshine and who doesn't love a big plate of barbeque food? Sausages, burgers, steaks, chicken legs, you can't go wrong with a meat filled outdoor feast during the summer months.
 
But what about those all important side dishes? It's great having a plethora of meat to serve up but it's vital that you have a few sides to accompany your main meat selection. Salads are a good choice when it comes to creating a side dish for your barbeque, something light to go alongside your range of meats.
 
If you're looking for a fresh summer salad recipe, why not try this Organic Chicken salad from Graig Farm?
 
Ingredients
2 Tbsp Olive Oil

¼ Cup Balsamic Vinegar

Juice From 1 Organic Lemon

2 Tbsp Mustard

1 Tbsp Worcestershire Sauce

2 Cloves Of Garlic

½ Tsp Thyme

½ Tsp Oregano

¼ Tsp Rosemary

Pepper

2 Tbsp Parsley

5 Cherry Tomatoes

Mixed Lettuce Leaves
 
Method
Mix together the balsamic vinegar, olive oil, garlic, oregano, rosemary, worcestershire sauce, lemon juice, salt and pepper.

Place the mixture in a ziplock bag with the 2 chicken breasts and leave to marinate for at least 2 hours. Make sure each breast is covered in the marinade.

Remove the chicken from the bag and heat on a grill on a medium heat.

Once cooked, remove the chicken from the grill and set to one side.

Chop the cherry tomatoes and mix with the lettuce leaves and chicken. Serve and enjoy.