Free Range Duck Rillettes
Free Range Duck Rillettes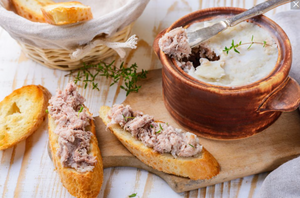 One of the best ways to use duck legs is this classic French dish. We add some belly pork to add flavour and moisture.
Ingredients:
1kg Graig Farm Organic Pork Belly Joint
2 Free Range Graig Farm Duck Leg Quarters
8 Juniper Berries (crushed)
75g Halen Mon Sea Salt
1 Tbsp Cracked Black Pepper
3 Bay leaves (shredded)
3 Sprigs of fresh thyme - leaves only
3 cloves crushed garlic
6 oz butter
Method:
1. Take a good size roasting tin and put the garlic, salt, pepper and herbs in the bottom.
2. Roll the pork belly and duck around in the tin covering all sides with the mixture.
3. Cover and place in the fridge overnight
4. The next day wash the aromatics off of the meat and dry 
5. Put the belly pork back in the roasting tin and cook in a preheated oven at 180 degrees for an hour before adding the duck and cooking for a further hour an a half.
6. Remove any hard crackling and shred in a blender until broken down. Shred the rest of the duck and pork using forks to your required consistency.
7. Mix with the blended crackling and press the meat into a terrine or pate dish. Place another dish on top of the rillettes to flatten, weigh down with a couple of tins and refrigerate for an hour.
8. Melt the butter in a pan and pour over the top of the rillettes to seal.
9. Serve with crusty bread and pickles!