Recipe - Classic Roast Lamb
Recipe - Classic Roast Lamb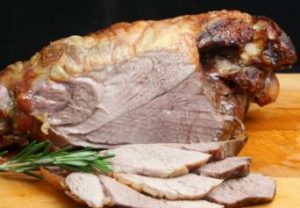 A roast dinner is a traditional meal choice for a spring Sunday and one of the most popular meats that many choose to have, is Lamb.
 
A classic roast Lamb lunch is sure to be a winner with the whole family on a Sunday and here at Graig Farm, we have a great recipe for you to follow to help you perfect your roast alongside our range of fresh, organic Lamb produce.
 
Ingredients
Organic

Olive

Oil

(3 Tablespoons)

Salt and Pepper

Garlic Cloves (6)

Fresh Rosemary (3 Stems)
Take the leg of Lamb out of refrigeration at least one hour before cooking. It will help the joint to cook faster if it's at room temperature.

Place the Lamb into a roasting tin and pour the olive oil over the meat and rub it in, then sprinkle with the salt and pepper.

Grill the Lamb for 5 minutes, or until the top side of the meat is browned. Then turn the Lamb over and do the same for the other side.

Remove the meat from the grill and turn on the oven at 325 degrees fahrenheit.

Mince the garlic cloves and mix together with the rosemary. Rub this into the meat.

Cover the Lamb with foil, this will prevent it from burning, and place in the oven for 1 hour.

After 1 hour, check the temperature of the meat. If it is 135 degrees fahrenheit, it is ready. Remove from the oven and leave to rest for 15 minutes. To keep it hot, keep the Lamb covered in the foil.

Your meat is now ready for carving. Serve with crispy roast potatoes, thick gravy, mint sauce and mashed swede for a delicious Sunday roast.