Spring Meats and Fish from Graig Farm
Spring Meats and Fish from Graig Farm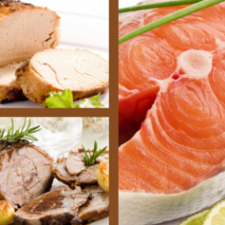 March marks the start of spring and with that comes a whole host of seasonal meats and fish to include in our recipes. Lamb, Salmon and Pork are all at their best this time of year, meaning tastier, more delicious meats to add to your dishes.
 
Here at Graig Farm, we feature a range of quality organic produce, including the season's best such as Lamb, Salmon and Pork. So whether you are cooking up a Sunday lunch or creating a simple fish dish, Graig Farm is the perfect place to shop for all your spring time meats.
 
Lamb
Spring Lamb has a tender consistency and is usually at it's best through February to June. The meat is firm, pink in colour and has a velvety texture during the spring season, which is exactly what you want when looking for a good tasting lamb. The best way to cook spring lamb is to roast it, preferably a leg or shoulder joint and our selection of organic lamb is available in a choice of different cuts.


Salmon
Salmon is usually available all year round, but is a great dish for springtime meals. With its delicate, sweet flavour, organic salmon is a great addition for all those fresh flavoursome recipes that many of us enjoy during the spring months. Raw salmon can be delicious eaten as part of a sushi dish, but it can also be poached and served with a simple lemon dressing if you're looking for an quick and easy meal.


Pork
Also available all year round is pork, but again, it can be served with a variety of spring time dishes. Pork steaks or chops, served with spring greens is a quick and tasty dish, ideal for weeknights, while a spring pork stew is a great alternative to a Sunday Roast. There's also the tasty treat that is the spring roll, which can be created using our organic pork mince.