Sunday Lunch Meats from Graig Farm
Sunday Lunch Meats from Graig Farm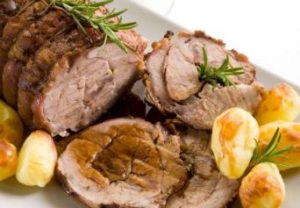 There's nothing more comforting than a roast dinner. Served with all the trimmings, a Sunday roast is hard to beat. But when choosing meat for your lunch, which do you normally go for? Are you a lover of a classic roast chicken or is a rack of lamb more up your street? Whatever meat you choose, you can't go wrong with a traditional Sunday roast dinner and here at Graig Farm, we have the perfect meats for roasting including Beef, Pork, Lamb and Chicken.
Beef
Brisket - Beef Brisket is usually low in cost and fairly economical. It is best slow roasted on a low heat as this delivers a deep, delicious flavour.
Topside - Topside Beef is tender, lean and ideal for roasting. It is best served rare or medium rare.
Silverside - Silverside Beef offers a succulent texture. It's melt in the mouth, rich flavour is a popular choice for roast dinners.
Fore Rib - Fore Rib Beef is meat on the bone and offers a tender texture with a lot of flavour.


Pork
Leg - A pork leg is a classic roasting choice and also offers tasty crackling which is a great accompaniment to a sunday lunch.
Belly - Pork belly has a large amount of fat, which is what provides this meat with its tasty flavours.
Loin - A pork loin is a very versatile cut of meat. It's superb flavour and tenderness make it a great roasting choice.


Lamb
Leg - A leg of lamb is a classic sunday roast meat. Full of flavour with a tender consistency.
Shank - Lamb shank is a great cut of meat, kept on the bone and is ideal for slow roasting.
Shoulder - Lamb shoulder is usually a cheaper cut of lamb, but still offers great flavour.
Rack - A rack of lamb includes the ribs which offers a succulent, moist piece of meat.


Chicken
Whole - Roast Chicken is best done with a full bird. The juices help to keep the meat moist and flavoursome.