Liven Up Your Sunday Lunch
Liven Up Your Sunday Lunch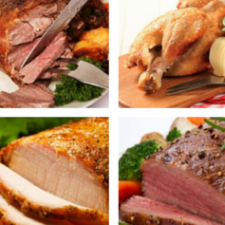 A Sunday roast is a British classic that we all know and love. Whether you're craving some comfort food or inviting the whole family round, you can't go wrong with a roast dinner. But if you're serving up a joint this week and fancy adding something different to your dish, there's nothing wrong with putting a twist on a classic. Along with our delicious organic meat selection, we also know of a few recipe ideas on how you can liven up your Sunday lunch. Pork, chicken, beef or lamb, whichever meat you choose, try one of our tasty ideas that's bound to be a crowd pleaser.
 
Roast Beef with French Onion Gravy
If you're serving up a juicy roast beef lunch this Sunday, why not swap your usual gravy, with some French onion gravy? To make this simple sauce, all you need to do is fry a large onion in 2 tbsp of oil, adding 200 ml of red wine, 100 ml of beef stock and 1 tsp of french mustard. Season with a touch of salt and black pepper for a tasty twist on an old classic.
 
Roast Lamb with a Minted Crust
Lamb and mint are the ultimate Sunday lunch combo, so why not serve with a minted crust, instead of the usual mint sauce? Mix 20g of mint leaves, 120g of bread crumbs, 1 tsp of dijon mustard, 3 tbsp oil and 1 tsp of balsamic vinegar in a food processor. After 30 minutes of roasting, press the mixture onto the lamb and continue to roast the joint until cooked through.
 
Roast Chicken with Garlic Stuffing
Chicken and garlic are a great combination, so why not serve up a roast chicken with some flavoursome garlic stuffing this Sunday? Combine zest from 1 lemon, 250g of butter, 1 head of minced garlic and 2 tbsps of chopped rosemary with a hand mixer. Spread the stuffing mix evenly in between the skin and the chicken and rub any remainder stuffing on the inside of the cavity. Roast until the juices run clear for delicious, garlic chicken.
 
Roast Pork with a Honey and Mustard Glaze
For an extra crispy pork roast, try glazing your joint with honey and mustard. To create this tasty dish, simply mix together 6 tbsp of honey, 4 tbsp of mustard, 2 tbsp of vinegar, 3 tbsp of soy sauce, salt and pepper and spread evenly over the pork.
 
Keep an eye out for more exciting recipe ideas on our blog here at Graig Farm.