Five Ways With Mutton
Five Ways With Mutton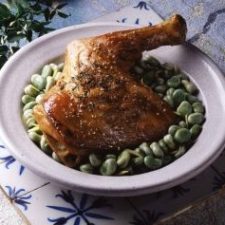 Although it's not a common choice for most, Mutton is a delicious meat that can be used in a multitude of dishes to create tasty meals for the whole family. It can make a great alternative to lamb and comes in many forms including chops, mince and breast. If you're looking to add a stronger flavour to your dishes, why not try some organic mutton from the selection here at Graig Farm? We have a number of tasty recipe ideas too for you to have a go at.
 
Mutton Curry
Why not give your friday night Indian a makeover and swap your usual meat with some cubes of mutton leg? Marinate the meat overnight in a mixture of spices for a curry dish with a kick.
 
Mutton Stew
Mutton meat is perfect for a traditional stew. Add celery, leek, carrots, potatoes and swede for a truly hearty dish. Cook on a slow heat for around 4 to 6 hours to create the perfect stew for you and the family.
 
Mutton Chops
Mutton chops are a great alternative to pork and lamb and taste great with a potato gratin. Cover with a yoghurt, mint and garlic marinade and leave overnight. Cook over a medium heat for around 35 minutes for a meat chop that is full of flavour.  
 
Mutton Meatballs
You could also swap your pork or beef mince for mutton and create some delicious meatballs, served with tomato sauce and fresh spaghetti. Mix mutton mince with chopped onion, breadcrumbs and egg and season with salt and pepper to create your meatballs.
 
Mutton Roast
Rather than your usual meat joint, try roasting a shoulder of mutton for the perfect sunday lunch. Season with rosemary, garlic and red wine and serve with roasted squash for a delicious roast lunch that the whole family will enjoy tucking into.
 
We stock a selection of organic mutton here at Graig Farm in the form of roasting joints, mince, chops and breast.