Spiced Beef
Spiced Beef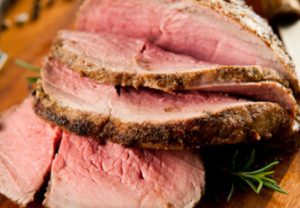 INGREDIENTS
4lb Graig Farm's organic rolled salted silverside ( If you prefer the beef less salty then soak the meat in cold water overnight)
1 onion sliced
1 small turnip sliced
3 carrots sliced
1 bayleaf
Water, red wine or brown ale
12 cloves
50g soft brown sugar
Juice of 1 lemon
½ teaspoon each of ground cinnamon, all spice and nutmeg
1 level teaspoon mustard powder
METHOD
Rinse meat well.
Put the onion, turnip and carrot in a large flameproof casserole, place the meat on top.
Add the bayleaf, then add wine or ale if using and top up to cover with water.
Bring to the boil, skim, then cover and put in the oven at 140ºC/Gas 1 for 4 hours, but can be left up to 6 hours. Check occasionally to ensure the liquid does not simmer away.
Leave to cool completely in liquid.
Set oven to 175ºC/Gas4.
Drain the meat very well, place in a roasting tin and stick with the cloves.
Mix together all the remaining ingredients and spread over the meat.
Bake for 40 minutes, basting from time to time.
Remove the string and serve hot or cold.
Download this recipe card
Download all of Graig Farm's Christmas Recipes