How to Cook Fore Rib of Beef
How to Cook Fore Rib of Beef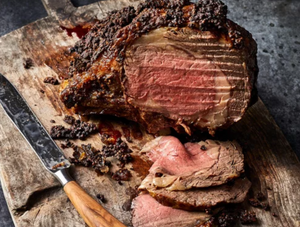 This is the King of roasts and due to the cost it's worth cooking well. We like it pink in the middle, elongate the cooking times by 15 minutes per kilo if you like it more well done. Our award winning grass fed beef delivers huge flavour and is perfect for a family celebration. 
Ingredients:
Graig Farm Organic Fore Rib of Beef 2kg or more
4 large garlic cloves
3 sprigs rosemary
2 Tbsp Light Olive Oil
All the Trimmings!
Method:
Pre heat the oven to 240 degrees/ gas mark 9
Crush the garlic cloves and rosemary leaves together in a pestle and add the oil to create a paste.
Cover the joint with the paste 
Cook for 25 minutes per kilo then turn the oven down to 180 degrees or gas mark 4/5 and cook for 10 more minutes.
Remove from the oven and cover in foil - allow to rest for 15 minutes.
Use a sharp knife to remove the bones then carve to your desired thickness.