Apricot and Sausagemeat Stuffing Recipe
Apricot and Sausagemeat Stuffing Recipe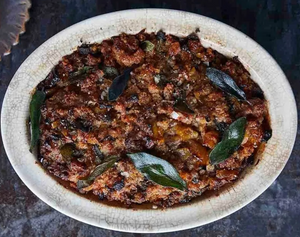 This is a great accompaniment to your Turkey or Goose this Festive Season. You can either make stuffing balls or stuff your bird with this delicious stuffing!
Ingredients:
900g Graig Farm's organic pork sausage meat
125g no soak dried apricots
125g celery
100g fresh breadcrumbs
2 teaspoons dried sage
1 teaspoon ground mixed spice
Sea salt and cracked black pepper to season
2 eggs beaten
1 tablespoon Dijon mustard
Method:
1. Finely chop the apricots and celery.
2. Put the sausage meat, breadcrumbs, sage, and mixed spice into a large bowl. 3. Add the apricots and celery, season to taste and mix everything thoroughly.
4. Mix the mustard and the beaten egg together and mix into the sausage meat mixture to bind.
5. Use to stuff the turkey or;
With floured hands shape into balls (makes approx 30)
6. Place on a baking tray and chill for 25 minutes or overnight, then bake at 180ºC/Gas 4 for around 45 minutes.