How To Cook Your Christmas Gammon or Ham
How To Cook Your Christmas Gammon or Ham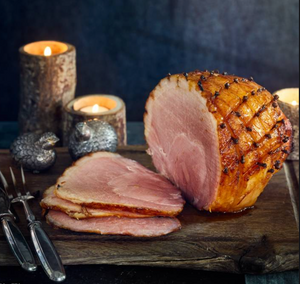 Ingredients:
1 Graig Farm's organic gammon or ham joint (un-smoked)
4 tablespoon honey
4 tablespoon hot english mustard
1 organic fresh onion
3 bay leaves
10 black pepper corns
2 organic carrots
A handful of cloves
Method:
1. Put the Gammon in a large pan and cover with cold water, add the vegetables, bay leaves, pepper corns and then bring to a gentle boil and cook for 2-3 hours. (twenty minutes per 500g)
2. Once cooked drain the water and let the joint cool for 15 minutes before adding it to a greased roasting tin.
3. Remove the skin, leaving on as much fat as possible, then with a knife score the fat in a diamond pattern and push a clove in to each X on the fat.
4. Pre heat the oven to 180 C while making the honey glaze.
5. For the Glaze – Mix the honey and mustard together and brush it all over the top and side of the gammon, put in the oven to roast for 15 minutes.
6. Take out and brush again with the glaze and return to the oven for a further 15 minutes or until it looks a delicious golden brown.
7. Remove from the over and leave to rest for
15 minutes before carving.
Tips:
A top tip when making this recipe is to keep the juices from the pan after the gammon has boiled as it can be used as a stock for a tasty home made soup! Also a side to accompany gammon is a creamy cauliflower cheese, it's easy to make and goes perfectly with gammon