Sweet Chilli BBQ Chicken Drumsticks
Sweet Chilli BBQ Chicken Drumsticks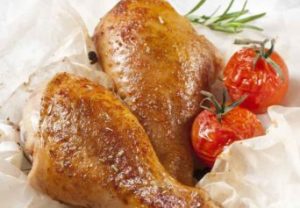 Summer is slowly but surely approaching, which means we can start looking forward to sizzling barbecue feasts. Get the family together and tuck into these delicious sweet chilli chicken drumsticks.
Ingredients
1 tablespoon honey
5 tablespoons sweet chilli sauce
3 tablespoons soy sauce
Method
Mix together the honey, sweet chilli sauce and soy sauce in a large bowl. Set aside a small dish of the marinade for basting. Place chicken drumsticks into the bowl and cover in the marinade. Cover and refrigerate for at least an hour, longer if possible.
Preheat barbecue for medium high heat.
Lay the drumsticks on the grill (brush grill with oil first) and cook for 10-15 minutes per side, or until cooked through. Baste with the spare marinade during last few minutes of cooking.
Check out our range of organic BBQ meat for more succulent summer treats. We also have a non-organic BBQ selection.