BBQ Chicken Thigh Marinade Recipe
BBQ Chicken Thigh Marinade Recipe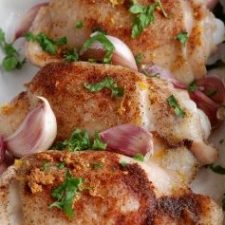 What British BBQ is complete without succulent chicken thighs? Here's an easy peasy marinade recipe that adds a tasty twist to this summer favourite.
Ingredients
6 x organic/free range chicken thighs
2 x cloves garlic
2 x spring onions chopped
¼ tsp cayenne pepper
2 tbsp lime juice
2 tbsp olive oil
Handful  of chopped parsley
Method
Mix all the ingredients into a paste (using a food processor is easiest).
Place thighs in a bowl and cover them in the marinade.
For best results leave them marinating for at least 6 hours or preferably overnight in a refrigerator.
Want more delicious BBQ ideas? Check out this sweet chilli chicken drumstick recipe. We have plenty of organic BBQ produce to get you through the summer.