BBQ Beef Steak Marinade Recipe
BBQ Beef Steak Marinade Recipe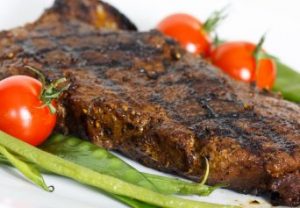 It's hard to improve on perfection, but we think this BBQ marinade recipe will make your steak even more mouth-watering. Don't believe us? Try it and see for yourself.
Ingredients
4 x 225g organic rump/sirloin steaks
2 x crushed garlic cloves
4 tbsp olive oil
4 tbsp balsamic vinegar
2 tbsp dijon mustard
4 tbsp soya sauce
4 tbsp Worcester sauce
Salt & pepper
Method
Mix all ingredients  together and apply to the steaks, leave in the marinade overnight and keep refrigerated.
Want more BBQ recipes? Give the chicken thigh marinade and sweet chilli chicken drumsticks a go this summer. We have plenty of organic BBQ produce for your al fresco feasts.