BBQ Sticky Pork Ribs or Chops Marinade Recipe
BBQ Sticky Pork Ribs or Chops Marinade Recipe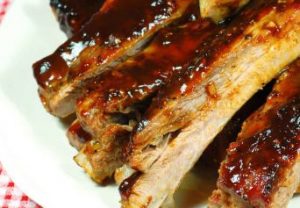 Sometimes the simplest things in life are the best, and this BBQ marinade recipe is no exception.
Ingredients 
Organic pork spare ribs / chops
2 – 3 garlic cloves
1 tps salt
1 tbsp English mustard
2 tbsp brown sugar (soft)
2 tbs tomato ketchup
1 tbs dark soya sauce
2-3tbsp brown rice vinegars
Freshly ground pepper
Method
Crush the garlic with the salt, then mix in the rest of the ingredients and add enough vinegar to make a thick marinade.
Pour marinade over the ribs/chops and refrigerate. For best results leave overnight.
Try our other BBQ recipes to make delicious al fresco feasts this summer.