Gluten Free Pitta Pizzas
Gluten Free Pitta Pizzas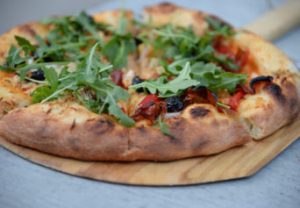 Fancy an easy-peasy gluten free meal you can whip up in half an hour? Try these great pitta pizzas.
Ingredients
4 Gluten Free Pitta Breads
250 gram of Mozzarella Cheese
1 Red Onion
6 Tbsp of Tomato Puree
Method
Preheat oven to 170c.
Using the back of a spoon, spread the tomato puree onto the pitta breads.
Cut the mozzarella into slices and place on top of the tomato puree.
Chop the sausages into small rounds and slice the red onion. Place evenly on to the pitas on top of the mozzarella.
Place in the oven and cook for around 20 minutes. Serve with a mixed salad and enjoy.
 
Check out this delicious gluten free chicken tray bake recipe too.