Slow Roast Pork Shoulder With Crackling - Recipe
Slow Roast Pork Shoulder With Crackling - Recipe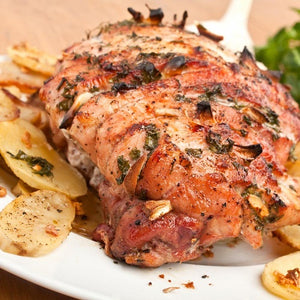 Pork Roasted Shoulder Recipe - With Crackling
Slow Roasted Cider Pork Shoulder is a great recipe for cooking bone-in shoulder. Short preparation time and then the meat roasts slowly, to a melting, fall off the bone tenderness. Whilst the joint cooks in the oven, you can get out in the garden, go out for the day, or just relax knowing dinner is sorted. The apple cider and herbs gently infuse the Pork Shoulder with a subtle flavour, resulting in a fantastic Roast Pork dish.
I used a large 4kg Graig Farm Organic Bone in Rolled Pork Shoulder for this recipe, which feeds 15 adults or leaves lots of pulled pork leftovers for easy meals during the week.
PORK SHOULDER - INGREDIENTS
4kg Graig Farm Organic Bone-in Pork Shoulder - it comes rolled and tied
2 Organic Onions cut into quarters
Fresh herbs - I've used bay leaves, thyme, sage and rosemary
1 x 500ml bottle of cider - I used medium dry apple cider
Sea salt and freshly ground black pepper
Method
Preheat the oven to 200C/180C fan, gas mark 6
Take the Pork Shoulder out of the fridge 1 hour before cooking.
Remove all packaging and pat the meat dry with kitchen towels.
Place the fresh herbs and onion quarters in the bottom of the roasting tin.
Pour the cider into the roasting tin.
Season the meat with sea salt and black pepper all over.
Rub extra salt into the scored skin.
Wrap the meat and tin tightly with aluminium foil, ensuring it tents (doesn't touch) the Pork. This will create a steamy, herb-infused cider atmosphere in which the Pork will slowly cook).
Place the roasting tin into the lower part of the oven and cook for 30 minutes.
Reduce the oven temperature to 150C/130C fan gas mark 2 and cook for a further 6 hours.
After 6 hours remove the joint from the oven. Use a fork to pull the meat at the end of the joint, if it falls always easily the meat is cooked and tender.
Increase the oven temperature back up to 220C/180C fan, gas mark 6 and place the pork shoulder back into the oven for 20-30 minutes to allow the skin to really crisp up into a beautiful crackling.
Remove the meat from the roasting tin and place on a board or serving platter.
Carefully, as it is hot, cut the string and remove the crackling, place this in a shallow tray back in the oven whilst the roast potatoes cook. Cover the meat with foil and allow to rest for at least 30 minutes.
To serve, use 2 forks to pull the meat apart. A slowly roasted joint like this will not carve into slices. The bones should pull cleanly from the meat, see the picture below.
Serve with roast potatoes and seasonal vegetables and watch out for our upcoming pork recipes.