Roast Lemon Thyme Chicken
Roast Lemon Thyme Chicken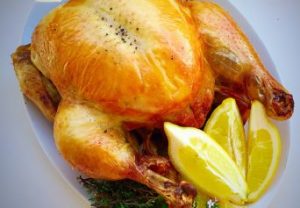 Who doesn't love a beautifully roasted chicken? By adding a couple of extra ingredients you can take your meal to another level, Roast Lemon Thyme Chicken.
Delicious Organic Chicken subtly infused with fresh thyme and lemon.
Recipe: Roast Lemon Thyme Chicken serves 6
Large 2.2kg Graig Farm Organic Whole Chicken
1 Unwaxed Lemon - scrub in hot water if the lemon is waxed
10 Sprigs Fresh Thyme
Sea Salt and Freshly Ground Pepper to season
1 tablespoon olive oil
Method: Preheat the oven to 209C/180C fan, gas mark 6
Remove the Chicken from the fridge 1 hour prior to roasting.
Take off all packaging and remove the giblets from the cavity.
Pat the Chicken dry with kitchen towels.
Season the inside cavity of the Chicken with a sprinkle of salt and pepper.
Cut the lemon in half lengthways.
Place the lemon halves and thyme sprigs into the cavity of the Chicken.
Place the Chicken into a pan in which it just fits.
Rub the olive oil over the skin of the Chicken and then sprinkle over salt and pepper.
Tuck the giblets around the side of the chicken.
Cover the Chicken in foil, ensuring the foil does not touch the chicken - this is called tenting.
Place the Chicken in the centre of the oven and roast for  1 hour and 40 minutes.
After the cooking time has elapsed remove the Chicken from the oven.
Take off the foil and baste the chicken with the herb and lemon infused juices.
Place the Chicken back in the oven for a further 20-30 to allow it to finish cooking and for the skin to crisp up.
When cooked remove the Chicken from the oven. Insert a sharp knife into the thickest part of the thigh, the juices should run clear if the chicken is cooked. If there is any pinkness place the chicken bak into the oven for a further 15 minutes and then check again.
Once cooked remove the thyme and lemon from the chicken cavity - they can be added to the gravy juices.
Serve the Roasted Lemon Thyme Chicken with wedges of lemons and sprigs of fresh thyme to garnish.
This subtly flavoured Roasted Lemon Thyme Chicken can be served as a traditional roast, or with new potatoes and salad for a summer meal.