Summer Salad Recipe
Summer Salad Recipe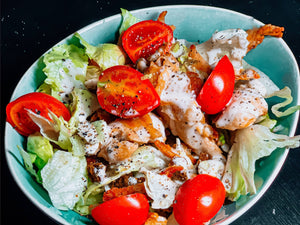 Summer's here, which means it's time to forego the heavy meals and eat a little lighter. No one wants to be stuck cooking over a hot stove when the weather's heating up and the best alternative to a stodgy meal is a refreshing salad. Our organic chicken is the perfect ingredient for a summer salad and at Graig Farm, we also know a couple of delicious salad recipes for you to try too. Take a look below at our favourite summer salad recipes, complete with Graig Farm organic chicken.
 
Grilled Chicken and Corn Salad
 
Ingredients:
Graig Farm

Organic Chicken Stir Fry

2 Garlic Cloves

1 Tbsp Paprika

Lemon Juice

2 Tbsp Olive Oil

1 Sweetcorn

Lettuce

Cucumber
 
Method:
Crush the garlic cloves and mix together with the paprika, lemon juice and 1 tbsp of olive oil, this will make the marinade for the chicken.

Next, place the chicken into the marinade mix and leave for around 15 minutes.

Cook the chicken on a griddle pan using 1 tbsp of olive oil. The chicken should only take around 3 to 4 minutes to cook or once the chicken is slightly charred.

Chop the cucumber and tear the lettuce and mix with the chicken and sweetcorn. Serve and enjoy!
 
Chicken, Mandarin and Cashew Salad
 
Ingredients:
Graig Farm

Organic Chicken Breast Fillets

Olive Oil

300g Mandarin Segments In Juice

1 Red Onion

1 Red Pepper

1 Red Cabbage

100g Toasted Salted Cashews

20g Watercress

20g Rocket

20g Spinach

1 Tbsp Toasted Sesame Seeds

1 Tbsp Sesame Oil

2 Tbsp Rice Wine Vinegar
 
Method:
Add a little olive oil to a frying pan and cook the chicken breasts, then leave to one side to cool.

Whisk together the mandarin juices with the sesame oil and vinegar to create the dressing.

Chop the red onion, red pepper, cashews, watercress, rocket, spinach, sesame seeds and mandarin segments, then add in the cooked chicken.

Pour the dressing over the chicken and vegetables and serve.