Roast Goose wih Prune Stuffing
Roast Goose wih Prune Stuffing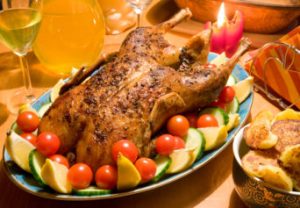 For best results we always cook our goose slowly using the same method as for traditional christmas turkey. If you have less time then my mother always uses the recipe below to achieve good results.
INGREDIENTS
Graig Farm's 6kg free range goose
Half a lemon
350g no soak prunes, roughly chopped
450g cooking apples, roughly chopped
Sea salt and cracked black pepper
METHOD
Cut away any excess fat on the goose, rub over the skin with the lemon half.
Prick the skin all over with the point of a sharp knife then sprinkle with the salt and pepper.
Mix the prunes and apples together and season.
Stuff the bird with the fruit mixture.
Weigh the stuffed goose to calculate the cooking time allow 20 minutes for every 450g of weight.
Heat the oven as hot as it will go.
Place the goose in a roasting tin and put in the hot oven, immediately reduce the oven temperature to 180ºC/Gas 4.
Cook for the calculated time.
Once cooked place the goose to rest on a heated serving dish and cover.
Drain the fat from the pan and use the juices to make wonderful gravy.
Download this recipe card
Download all of Graig Farm's Christmas Recipes