Organic Turkey Burgers Recipe
Organic Turkey Burgers Recipe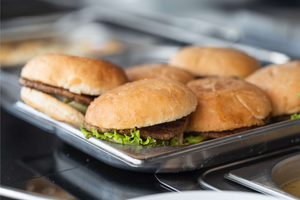 Making your own burgers is always fun! Here's a superb organic recipe for you to get stuck into. This recipe includes turkey mince, but you can use any minced meat of your choice.
Ingredients:
3 x 450g Graig Farm minced Organic Turkey
30g dried breadcrumbs
1/2 onion, finely diced
2 egg whites, lightly beaten
small handful chopped fresh parsley
1 clove garlic, peeled and minced
1 teaspoon salt
1/4 teaspoon freshly ground black pepper
Method
In a large bowl, mix turkey, breadcrumbs, onion, egg whites, parsley, garlic, salt and pepper. Form into 12 burgers.
Cook in a medium frying pan over medium heat, turning once, check core temperature is up to 85 degrees C.