Sirloin Steak in a Beer and Brown Sugar Marinade
Sirloin Steak in a Beer and Brown Sugar Marinade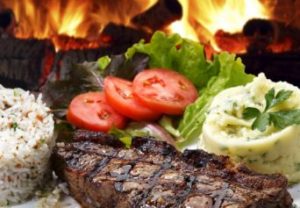 The flavours of this simple marinade complement the natural taste of our matured organic sirloin steaks. Use your favourite dark beer, ale or stout for a delicious dish.
Ingredients 
2 x Graig Farm organic sirloin steaks
60ml dark beer, ale or stout
2 tablespoons teriyaki sauce
2 tablespoons dark brown soft sugar
1/2 teaspoon seasoned salt
1/2 teaspoon black pepper
2 cloves crushed garlic
Method

Preheat barbeque or lightly oiled griddle pan for high temperature (griddle pan can be preheated prior to cooking)
 In a bowl, mix together beer, teriyaki sauce, crushed garlic and dark brown soft sugar. Add the steaks, and let sit in the marinade for about 5 minutes. Sprinkle with 1/2 the seasoned salt, pepper and set aside for 10 minutes. Turn steaks over, sprinkle with remaining seasoned salt, pepper and continue marinating for 10 more minutes.
Remove steaks from marinade. Pour marinade into a small saucepan, bring to the boil, and cook for several minutes.
If using barbeque lightly oil the barbeque cooking grate. Barbeque steaks for 7 minutes per side, or to desired doneness. During the last few minutes of barbequing, baste steaks with boiled marinade to enhance the flavour and ensure juiciness. If using a griddle pan, timings may slightly differ depending on how you like your steaks, but again baste the steaks as cooking.
The perfect way to enjoy a perfect steak!