Organic Prawn Salad Recipes
Organic Prawn Salad Recipes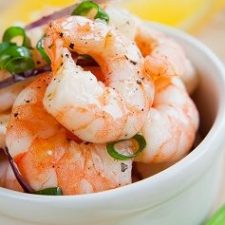 The weather's hotting up, which means it's time to enjoy some lighter, fresher meals. No one want's to be slaving over a hot oven when it's warm outside, so why not create something that requires a little less cooking time? A salad is always a great meal option for summer days. Whether you're dining outdoors or entertaining in the garden, a classic salad never fails to satisfy.
 
Prawns are a great option for summer salads. Fresh and light, they add flavour and protein to your dishes and pair well with many different flavours. Take a look below at some of our favourite prawn salad recipes, made using our very own organic prawns.
 
Prawn and Lemon Salad
 
Ingredients
1 Small Lettuce

450 gram of Organic Prawns

100 gram of Green Olives

Half a Cucumber

4 Tomatoes

Olive Oil

1 Lemon

Mustard Powder

Salt

Pepper

Dill
 
Method
Fill a pan with 2 litres of water and add a pinch of salt. Bring the water to the boil and add your prawns. Reduce the heat and cover, leave to simmer for around 5 minutes.

Shred the lettuce, chop the cucumber and cut the tomatoes, then mix together with the olives and prawns.

To make the dressing, combine 5 tbsp of olive oil, zest from the lemon and a pinch of mustard powder. Mix together in a bowl until blended.

Pour the dressing over the prawns and salad and serve. Garnish with lemon slices and dill.
 
Prawn and Avocado Salad
 
Ingredients
1 Chilli

1 Garlic Clove

1 Lime

1 Tbsp Soy Sauce

1 Tbsp Sesame Oil

200 gram of Organic Prawns

140 gram of spinach

2 Avocados
 
Method
Firstly, cook your prawns the same as above.

Chop the chilli and remove the seeds. Mix with the garlic, zest of the lime, soy sauce and sesame oil. Add the prawns and leave to marinate for one hour.

Chop the avocados and spinach and mix with the marinated prawns. Serve and enjoy.
 
Prawn Cocktail Salad
 
Ingredients
200 gram of Organic Prawns

1 Avocado

200 gram of Cherry Tomatoes

4 Spring Onions

1 Romaine Lettuce

2 Tbsp Olive Oil

1 Lemon

3 Tbsp Mayonnaise

2 Tbsp Ketchup
Method
Whisk the mayonnaise, ketchup and a squirt of lemon juice to make the dressing. Whisk until blended into a smooth sauce.

Cook the prawns as above and chop the avocados, tomatoes, spring onions and lettuce. Mix together in a bowl.

Drizzle the olive oil over the salad and layer the dressing over the top. Serve and enjoy.
 
At Graig Farm, we offer organic prawns from Ecuador, which are available peeled and frozen. Our organically farmed prawns are brought to you without the use of antibiotics and pesticides, resulting in a truly organic, fresh flavour.