Organic Meat and a High Protein Diet
Organic Meat and a High Protein Diet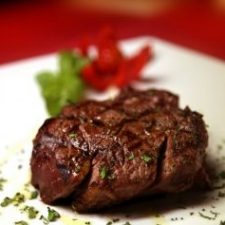 The Perfect Source Of Protein
A high protein diet can help those who want to lose weight, build muscle or eat a little healthier. Whether you're looking to tone up, maintain your weight or drop a few pounds, it's a good idea to add more protein to your meals. Meat offers the highest protein content of all foods, so if you want to create a more protein filled diet, meat is a good place to start. 100 grams of meat typically includes around 25 gram of protein, which is half the recommended daily intake of protein. Men should aim for around 55 gram per day, while women need around 45 gram of protein each day.
 
How Does Protein Aid A Healthy Diet?
So how does protein help you to lose weight and tone up? There are many benefits to eating more protein, including the fact that it can help you feel fuller for longer, meaning you are less likely to over eat or consume extra calories. The body also burns more calories digesting protein. 20% of the total calories from protein are used for digestion. So if you eat a chicken breast, which is around 150 calories, you will burn approximately 30 calories through digestion alone. Protein is also a great energy source, so if you are choosing to exercise more in a bid to lose weight or burn fat, then protein can help to fuel your workouts. If you are wanting to build muscle, protein is essential as it helps the body to recover and repair more efficiently after weight training.
 
Organic Meat Vs Non Organic Meat
Many non-organic meats are bulked using water and grains, meaning less protein is found in the meat. Organic produce includes less artificial flavourings, preservatives and toxins, so you are receiving 100% meat when you opt for organic and more meat means more protein. So if you are opting for a high protein diet to help you lose weight and build muscle, organic meat is a much healthier option than non-organic produce.
 
Here at Graig Farm, we offer a selection of organic meat, including chicken, turkey, beef, pork and lamb and you can be sure that all of our produce is of the highest standard and has been organically farmed by ourselves.


High Protein Meals
Take a look below at some of our high protein meal ideas, using our organic meat and fish, to create delicious dishes for breakfast, lunch and dinner.
Breakfast - Salmon and Scrambled Eggs, Ham and Cheese Omelette, Turkey Sausage Sandwich
Lunch - Chicken Salad Wrap, Pork and Avocado Salad, BLT Sandwich
Dinner - Chicken Burgers, Beef Stir Fry, Lamb and Mixed Pepper Kebabs