Maple Roasted Organic Free Range Turkey with Apple & Brandy Gravy
Maple Roasted Organic Free Range Turkey with Apple & Brandy Gravy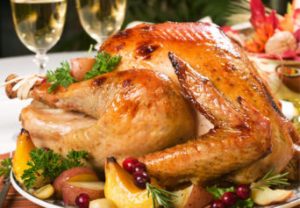 There are many great things about Easter: the first signs of Spring, the chocolate egg hunts and of course a delicious family roast.  Organic turkey is a superb choice of roast for Easter, offering mouth-watering flavour.
We've got a yummy organic turkey recipe the whole family will love. It might even become your new tradition!
 
Maple Roasted Organic Free Range Turkey with Apple & Brandy Gravy
Ingredients
1 x Organic/Free Range Turkey  4.5kg ( Feeds 8-9 )
5 tablespoons maple syrup
500ml apple cider
2 tablespoons fresh marjoram chopped
2 tablespoons fresh thyme chopped
Zest of a lemon
175g butter
1 chopped Organic Onion
2 large Organic Carrots chopped
2 celery sticks chopped
750ml turkey or Organic Chicken stock
4 tablespoons plain flour
125ml apple brandy
1 bay leaf
Salt and ground pepper to season
 
Method
To a saucepan add the cider and maple syrup, bring to boil over a medium heat. Once reduced to 125ml approx., take off the heat. Stir in the butter until melted and also add 1 tablespoon of thyme, 1 tablespoon marjoram and the lemon zest. Season with salt and pepper. Cover and refrigerate until cool.
Let your turkey stand for at least 30 mins at room temperature before roasting.
Pre heat oven to 190C / Gas Mark 5. Make sure you have space for the turkey.
Place turkey in a roasting tin, preferably one with a rack. Keep back 4 tablespoons of the butter mixture for the gravy, with the rest rub over the skin of the turkey and also under the skin of the breast.
Add the celery, onion and carrots to the roasting tin, sprinkle the rest of the herbs over the veg and pour in 500ml of the stock.
Place the turkey in the pre heated oven for 30 mins, then reduce the heat to 180 C /gas mark 4 and loosely cover the turkey with foil. Continue roasting for around 2 ½ - 3 hours until the breast is reading 77 degrees on a meat thermometer and the thickest part of the thigh is 82 degrees. Transfer turkey to a serving platter and leave to stand for at least 30 minutes.
Strain the pan juices into a measuring jug, skim off any excess fat and add enough stock to pan juices to measure 750ml. Transfer liquid to a saucepan and bring to the boil. Now mix the remaining butter and flour until smooth. Then whisk the butter and flour mixture into the stock add a sprinkle of thyme and the bay leaf. Boil until reduced to a sauce consistency. Season with salt and pepper to taste and add apple brandy if desired.
If you need more recipe ideas, try this tasty Roast Lamb recipe.