Our Easter Roast Lamb Recipe
Our Easter Roast Lamb Recipe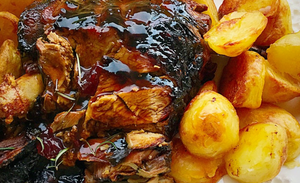 Redcurrant Jelly Glazed Roast Lamb
Easter is nearly upon us. The sights and sounds of Spring, are evermore present with each day bringing new life and longer daylight hours. Easter Sunday roast is traditionally lamb and this Redcurrant Jelly Glazed Roast Lamb is the perfect meal to celebrate with.
INGREDIENTS
2kg Organic Leg of Lamb - trimmed and tied
3-4 Sprigs of rosemary
1 Organic Onion - peeled and cut into quarters
3 tablespoons Welsh Lady Redcurrant Jelly
Sea Salt and Freshly Ground Black Pepper
METHOD
Preheat the oven to 150C/135C fan, gas Mark 1-2
Take the lamb out of the fridge 1 hour before cooking.
Remove all packaging and pat dry with kitchen paper towel.
Place the lamb in a roasting tin that just fits.
Using a sharp knife make slits through the lamb skin into the meat.
Place sprigs of rosemary into each of these slits.
Sprinkle over with sea salt and freshly ground black pepper.
Place the quartered onion under and around the lamb.
 Leg of lamb ready for the oven.
Cover the roasting tin with a lid or foil - ensuring the foil does not touch the meat.
Place in the centre of the oven a cook for 4 1/2 hours.
Baste the lamb 2-3 times during the cooking process.
When the cooking time has finished remove the lamb from the oven.
Increase the oven temperature to 200C/185C fan, gas mark 6.
Remove the sprigs of rosemary.
Spoon the Redcurrant Jelly all over the lamb.
The Gorgeous Redcurrant Jelly will caramelise on the lamb.
Leave the lid/foil off and place the lamb back into the oven for 20-30 minutes, until the glaze has become deliciously dark and sticky.
When done remove the lamb from the oven and place on a foil covered, board/platter to rest for 30 -40 minutes.
Remove string before serving.
Serve with crunchy, golden roast potatoes and seasonal vegetables.
Nothing says celebration more than a delicious platter of
Redcurrant Jelly Glazed Roast Lamb,
surrounded by golden, crunchy roast potatoes!
Wishing you all a very Happy Easter.