Glazed Mutton Ham
Glazed Mutton Ham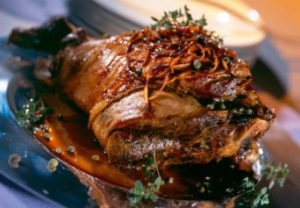 INGREDIENTS
Leg of Graig Farm's organic mutton ham
1 onion peeled
1 bay leaf
10 peppercorns
For the glaze:
Small jar of redcurrant jelly
3 tablespoon of mint sauce
Small glass of red wine
METHOD
Place the mutton ham in a large saucepan with the onion, bayleaf and peppercorns, and just cover with water.
Cover with a lid and bring to the boil, simmer very gently for 45 minutes per kilo.
When cooked, leave to cool in the liquid; this is important to retain the moisture in the meat.
Meanwhile mix the redcurrant jelly with the mint sauce.
When completely cool, remove the mutton from the liquid and place in a roasting pan.
Spread the redcurrant and mint glaze over the joint, pour the red wine into the pan.
Bake the mutton at 200ºC/Gas 6 for about 45 minutes, basting with the pan juices 3 to 4 times.
Place the mutton on a serving dish and serve hot or cold.
Download this recipe card
Download all of Graig Farm's Christmas Recipes