Valentine's Meal For Two
Valentine's Meal For Two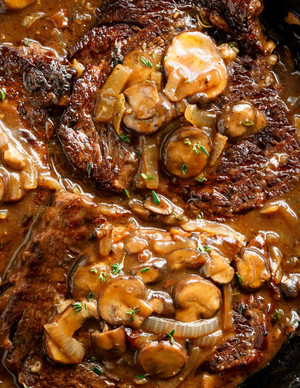 As the most romantic day of the year approaches, we get ready to take plenty of orders on all our different produce. Many people tend to cook a meal rather than go out to a busy restaurant and face a two hour wait for food! At Graig Farm we have decided to help you out with giving you some inspiration on what to cook - so you don't leave it until last minute.
This recipe includes using one of the best cuts of beef - a Rump Steak. Let's get started.
Ingredients:
For this you will need:
1 tbsp of sunflower oil
2 Organic Rump Steaks (8oz each)
140g of mushrooms
A selection of spring greens
A bottle of red wine
1 tbsp of butter
4/5 potatoes
2 pieces of thyme for presentation
Preparation:
Get a suitable size frying pan and heat the oil. Season the steaks, then fry for 2-3 mins on each side, cook for slightly longer (or shorter) depending on your preference. Place pealed and cut potatoes into a boiling pan of water and place your spring greens in a separate pan and cook. Once the steaks are cooked to your liking, remove from the pan and set aside to rest.
Chop mushrooms and add to the pan, cook for a couple of minutes until soft and golden. Pour in some red wine and bubble until syrupy, then turn off the heat and stir in the butter, add some more seasoning.
Once the spring greens and potatoes are ready complete preparing them and place them onto the plate. Serve the steaks with the mushroom sauce poured all over, so everything is covered with this rich sauce.
Three simple steps and the meal is complete.
Enjoy!