Organic Pie Recipes
Organic Pie Recipes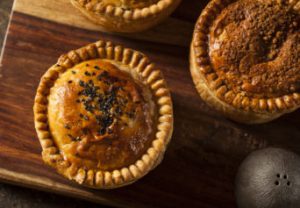 Autumn is here and winter is fast approaching, which usually means the need for comfort food begins. A hearty pie is an excellent way to round off a long day at work or a casual weekend during the colder months. Whether you're more of a chicken, beef, game or vegetable kind of pie lover, we know that this warming choice is a favourite with all the family.
At Graig Farm we know of a few pie recipes that will get your taste buds going and they are complete with organic meat and vegetables, which means you'll have created a tasty meal in no time.
Organic Chicken Pie
A hearty meal for all the family
Ingredients
400g cooked, shredded organic chicken
225g puff pastry
1 medium free-range egg
2 tbsp butter
1 heaped tbsp flour
200ml chicken stock
3 tbsp double cream
Squeeze of lemon juice
Sprig of fresh tarragon
1 medium green pepper
Handful button mushrooms
Method
Preheat the oven to 200C/180C (fan)/Gas 6.

Sauce - melt the butter in a saucepan, add the flour and cook on a low heat for 3 minutes. Pour in the chicken stock, increase the heat and stir until simmering. Add the cream and allow the sauce to gently simmer until it has a syrup consistency. Finally add the lemon juice and tarragon and turn off the heat.

In a second pan, gently fry the chicken, peppers and mushrooms with a knob of butter for around 5 minutes, then add to the sauce.

Grease an ovenproof dish and add the chicken mixture.

Roll out the pastry on a floured surface, to a thickness of around ¼ in/1cm. Place the pastry over the filling and trim the edges. Decorate the pie with shapes using the leftover pastry. Cut a couple of air holes in the pastry, this will allow the steam to escape when cooking. Brush the pie with the beaten egg.

Cook the pie in the preheated oven for 25-35 minutes. The top should be browned and the filling piping hot. Allow to cool slightly and serve.
Organic Steak Pie
The perfect winter warmer during the colder months
Ingredients
900g stewing steak, cut into cubes
Plain flour, seasoned with salt and freshly ground black pepper, for dusting
1 tbsp olive oil
2 onions, sliced
1 tbsp chopped fresh parsley
1 tbsp chopped fresh thyme
570ml/1 pint beef stock
225g shortcrust pastry
1 free-range egg
Method
Dust the diced steak with the seasoned flour. Heat oil in a large pan and fry the meat, stir frequently until the meat is browned.

Add the sliced onions, heb, salt and pepper and the stock and bring to the boil. Reduce the heat and simmer for an hour and a half.

Preheat the oven to 190C/375F/Gas 5.

Transfer the filling to an ovenproof dish. Line the rim of the dish with a thin strip of pastry, dampen the pastry with a beaten egg. Cut a piece of pastry to fit across the top of the dish and place on top of the dish, pressing the edges together to seal. Decorate with the trimmings and create a steam hole in the centre of the pie. Brush with a beaten egg.

Cook for 1-1 ½ hours, ensure that if you notice the pastry getting too brown, cover it with foil.