Mother's Gravy
Mother's Gravy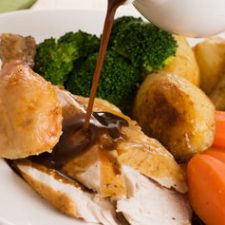 INGREDIENTS
1 pint of vegetable juices from veg and potatoes
Stock from meat pan
2 tablespoons corn flour
1 small tablespoon of mustard
1 small tablespoon of horseradish
METHOD
It has to be said that home is where the gravy is. Good gravy can only come from the juices of meat.
Pull the joint out of the pan. Pour the vegetable juices into the meat pan, roughly 1 pint of veg juices for 4 people. The majority of this stock should ideally come from the potatoes. Scrape the pan with a wooden spoon to lift the nutritious remnants of the meat, releasing the awesome flavours.
You can now attempt to remove any excess fat from the juice by pouring juices in a jug. Leave to settle for a few minutes to allow fat to rise to the top making it easy to separate by pouring away.
Next mix 2 tablespoons of corn flour with some of the cooled veg stock and mix till the liquid resembles the consistency of milk. Pour the juices back into the roasting dish and add the corn flour mixture. Stir vigorously until the two liquids have blended together making sure there are no lumps. Whisk in to the gravy 1 small tablespoon of mustard and 1 small tablespoon of horseradish. This will add a richness to the gravy and provide your guests with much bewilderment and conversation regarding the methods of your gravy making. This method works very well with all meats.
An extra tip would be to add a small amount of apple sauce to the gravy when cooking pork and mint sauce when cooking lamb. You could even add cranberry sauce when cooking turkey!
Download this recipe card
Download all of Graig Farm's Christmas Recipes