A Lamb Sunday Dinner
A Lamb Sunday Dinner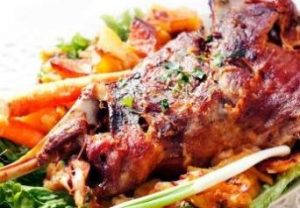 Everybody loves the traditional Beef, Chicken or Pork Sunday dinner, for many years it's been the staple dish of choice for many families Sunday gathering. Conversely, it's not too often you'll find a family sitting down to eat a Lamb Sunday roast.
For those who do enjoy lamb, however, we have a recipe for you to follow so you can get that perfect Lamb Sunday dinner, with all the trimmings.
Ingredients
You will need:
2kg or 4 and half pound leg of Lamb
3 large garlic cloves
1oz of soft butter
4-5 stalks of fresh rosemary, make sure you have some spare for garnish
salt and black pepper for seasoning
125ml of red wine
a small amount of butter for the gravy
and an equal amount of plain flour
Preparation:
Preheat your oven to 200c/Gas Mark 6. Remove the Lamb from the fridge and allow it to get to room temperature.
You need to make the garlic and rosemary butter, so peel the garlic gloves and grate them finely. Place this into a bowl with the butter. Then, strip the leaves off the rosemary stalks and chop finely, add to the bowl with the garlic and butter. Season with salt and black pepper and then mix them together to make a paste.
With a sharp knife make small incisions into the Lamb. They need to be large enough for you to stick your fingertip inn.
Take the garlic and rosemary butter and massage this into the meat, making sure you place it into the holes you've created.
Once the Lamb is all prepared, place it into a roasting tin and cover loosely with foil and place in the oven. As the meat cooks the garlic and rosemary butter will absorb into the meat giving it additional flavour.
After 30 minutes, take the Lamb out of the oven and remove the foil, place the joint back in the over and cook for a further 50-60 minutes. Cook for longer if you require.
Once cooked, remove the Lamb from the oven and leave it rest for 10-15 minutes, place the foil back on the top of the joint to keep it warm.
To make the gravy, heat a gravy based pan. When the pan is hot enough, pour the juices from the roasting tin into the pan, but be careful as they may splatter, add the red wine and turn the heat down and leave the sauce simmer.
To thicken the sauce, add the flour and butter to a mixing bowl and make a paste. Add a teaspoon at a time and mix until you get the desired thickness.
To serve, slice the Lamb and pour the gravy over the meat, garnish with some stalks of rosemary and add some seasonal vegetables to accompany the meat.
There you go, you have the perfect Lamb Sunday Dinner. Enjoy!