How to Cook Prime Steaks
How to Cook Prime Steaks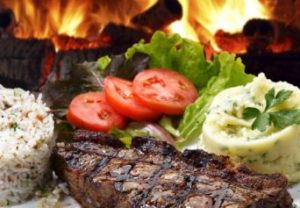 At Graig Farm we have some of the finest organic steak cuts available for you. Cooking them is simple and you can add your own sauces or garnishes to taste. Create your very own 'Steak Night' with our delicious Fillet, Sirloin, Ribeye or Rump steaks.
How to cook prime steaks
Firstly you need to have an extremely hot frying pan (or griddle pan for those criss cross marks).
I always like to use fat as a source of oil.
Before cooking season your steak with salt and pepper,
Place the steak in the extremely hot pan.
Leave it there until it has gone crispy brown, then turn it over and do the same and then take it off the heat and leave to rest for 5-10 minutes.
Tip: the resting time determines how rare or how well done you want your steak to be.