Lemon Herb Honey Chicken
Lemon Herb Honey Chicken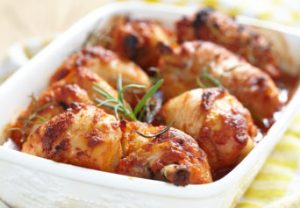 Ingredients
6 Organic Chicken Thighs or 4 Organic Chicken Breasts
2 Lemons
2 tbsp Honey
2 Sprigs Rosemary
Method
1. Preheat oven to 180 / gas mark 4
2. Place the chicken in a baking dish, squeeze the juice out of the lemons over the chicken and nestle the skins among the chicken, drizzle with honey, season with salt and pepper to taste and add in the rosemary, give this a good mix around in the dish to make all the flavours blend – delicious!
3. cook in the oven for around 40 mins or until the chicken is cooked
4. serve with lashings of your favourite veg, rice, salad or anything you fancy!