How to cook the perfect Beef roast
How to cook the perfect Beef roast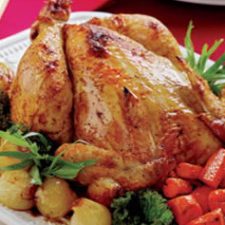 Roast Beef is undoubtedly one of Britain's most popular meals, up there with the all-time greats such as Fish & chips. However many people are scared away from cooking the meal, as they can see the task intimidating, but why?  Well, a quality piece of beef is not cheap, so everybody wants to make sure it comes out perfect! A beef roast is also usually the centre focus of an occasion, be that a family get together or a social gathering, so nobody wants to have to serve tough meat!
Here at Graig Farm, we thought it was only fair to dispel a few myths around cooking this wonderful meal, whilst giving you the full lowdown on how to cook that perfect roast.
Select your meat
If you want perfect results, you have to start with the perfect cut of beef. Your cut needs to be tender (like ours is) It needs to contain fat to ensure it is juicy when served (like ours is) and of course, it needs to be organic (like ours is) Our Organic beef is all from native breeds who are grass fed, it is then aged and cut by our master butchers, it is so good that it has won us awards.
Season your meat
Everybody agrees that our Beef is simply delicious on its own, however if you want you can season your meat. Many choose to season with Salt & Pepper, whilst many go that extra mile. A great way of making your roast unique, is adding a spice rub to it. These can come ready made, but making your own is incredibly easy. Firstly, ensure that your rub contains both salt and sugar, the salt flavours the meat, whilst the sugar helps caramelise the meat. You can also add garlic, onion powder, Cajun, Paprika, Thyme, Basil, Rosemary- literally anything you like.
For best results, rub into the meat whilst it is moist.
Cooking your meat
There are a number of different methods of cooking roast beef, which all provide excellent results, so choosing your method really is all down to personal preference. Regardless of what method you choose to cook your beef with, there are a few golden rules you should adhere to.
Ensure the beef is room temperature prior to cooking
Cook your beef on the oven rack, with a tray underneath to catch the drippings
Baste the meat in its own juices every 20 minutes or so
Temperatures are an incredibly important factor around judging when your meat is fully cooked, here is the breakdown for the different types of meat and their internal temperatures.
Rare – 125F
Medium Rare-130-040F
Medium- 145-150F
Well Done-155F-165F
Slow Cooking
Slow cooking your beef ensures that the joint is fully cooked, right the way through. The process is slow and it won't brown your meat on the outside. So, cook your meat until at 200F until its internal temperature reads around 5-10 degrees below the desired levels. This can take between 4-8 hours, at this point remove it from the oven and leave it to stand; the meat temperature will carry on increasing this point, meaning the beef will finish cooking after it has left the oven.
Slow Cooking With a Crust
This method allows you to combine a cooked middle and a nice crust on the outside. In this method, you pan sear the meat quickly enough so none of the inside gets a chance to cook, once the meat is seared cook the beef at 200F until its internal temperature hits around 30 degrees below the desired temperature, this can take anything up to 8 hours. At this point you need to turn the heat up to 500F and cook it until it reaches 5-10 degrees below the desired temperature.
Quick Cook
This method is undoubtedly the quickest and most convenient, although the inside of the meat will not be cooked as it could be with other methods. So, cook the beef at 350F until the temperature reads 5-10 degrees below the desired temperature, this can take anywhere upwards of 15-30 mins per pound of meat. Simply remove the meat, let it stand for around 20 minutes and it will finish cooking.
Serving
Ensure that the meat is left around 20 minutes before carving, this lets the juices fully penetrate the meat. This will also mean it is easier to carve and more tender in the mouth. Why not serve with some of our delicious Organic Vegetables?  Now all you have to do is relax & enjoy it!