Our Delicious Lamb Shawarma Kebab Recipe
Our Delicious Lamb Shawarma Kebab Recipe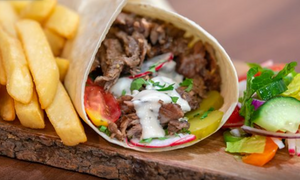 Our organic Welsh mountain lamb is award winning and very tasty but here's an idea for using the great value breast cut to make a delicious dish to remind you of Greek holidays (or a healthy version of a late night takeaway!)
Ingredients (Serves 2-3)
For the lamb marinade:
2 Tbsp light olive oil
3 Tbsp dried or fresh oregano
3 Bayleafs - chopped
3 cloves garlic - finely chopped
Zest and juice of a whole lemon
Salt and black pepper
For the salad and garnish:
Little Gem or Romaine lettuce - sliced
Sliced cucumber and tomatoes
Sliced red onions
Crumbled feta cheese (optional)
Low fat natural yoghurt
Chilli or Sriracha sauce (optional)
And not to forget some warmed pitta breads!
Method
Unroll the lamb breast and place into a large bowl along with the rest of the marinade ingredients cover and place in the fridge whilst you prepare the salad. Heat your oven to 140 degrees or gas mark 2.
Line a grill pan or roasting dish with foil and place the lamb on a rack above the foil and place in the oven for an hour an a half (this will cook a lot of the fat off of the meat).
After an hour and a half increase the heat to 200 degrees or gas mark 6 for 5-7 minutes or until the lamb is crispy on top.
Remove and rest for five minutes then carve into thin slices.
Place the lamb in the warmed pittas and add the salad, yoghurt and chilli sauce to taste - delicious!