Chilli Chicken with Lemon and Mint Recipe
Chilli Chicken with Lemon and Mint Recipe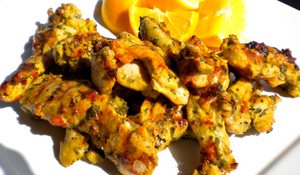 A great simple Midweek Supper you can serve with flatbreads, pittas or wraps.
Ingredients:
500g of Organic Chicken Breast
1 Red Chilli (Hot)
1/2 Tbsp Dried Chillies
3 Cloves of Garlic Chopped or Crushed
A Handful of Fresh Mint Leaves
2 Pinches of Saffron (If you have it!)
2 Tbsp Olive Oil
Juice Of a Large Lemon
Method:
Cut the chicken into inch wide strips and put into a bowl. Blend the Chilli, garlic, saffron, mint and olive oil and pour over the chicken and stir in. Set this marinade aside for half an hour before grilling the chicken for 15-20 minutes making sure you don't burn the marinade!
Season and drizzle with a little lemon juice and mint to serve in the bread of your choice or you could serve with rice.
Simple and delicious!