The Best Meats For Christmas
The Best Meats For Christmas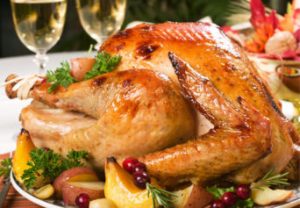 If you're getting ready for all the family coming over for the festive period, then you may already be thinking about the food you are going to serve. Christmas is the time of year when we all like to indulge in delicious food and drink so whipping up a plethora of dishes for your guests is an essential part of hosting a perfect Christmas dinner.
But what will you be serving this year? Have you always opted for Turkey? Or do you like other meats such as Pork or Goose? Here at Graig Farm, we offer a range of different meats that will make your Christmas meals taste delicious. Take a look at some of our favourites below.
The most popular meat to serve at Christmas is, of course, Turkey. For over 500 years, the Turkey has taken centre stage when it comes to festive food and it shows no signs of becoming unpopular. Our Turkeys are free range, organic and additive free and are supplied fresh at Christmas time. We also stock Turkey Crowns, a popular choice when it comes to festive food.
Tips On Cooking Your Turkey-
Always take it out of the fridge a few hours before cooking to bring it up to room temperature.
For extra juicy meat, add stock to the roasting tray and lay the turkey on a roasting rack above.
Make sure you let the turkey rest for at least 20 minutes after cooking to let the meat relax.
If you want something a little different for Christmas dinner, why not try serving Duck? Roasted Duck can be a great alternative to Turkey if you want to create a more sophisticated meal for you and your guests. Our additive free whole duck is available in 2kg and 3kg weights, so you can feed from 4 to 8 people with this tasty bird.
Tips On Cooking Your Duck-
Before cooking, score the skin in a crosshatch pattern
Don't stuff the whole of the cavity, leave some space for the hot air to enter
Remember to save some of the leftover duck fat to cook your roast potatoes with
Another popular bird to eat at Christmas time is Goose. It's rich, dark and succulent fat makes for a great tasting festive dish that the whole family will enjoy. Our 6kg free range Goose feeds up to 15 people, ideal if you have a lot of guests to feed.
Tips On Cooking Your Goose-
Times for cooking a Goose should be 15 minutes per 500g plus an extra 30 minutes
The tray will fill up with fat quite quickly, so keep an eye on the roasting tray in case the fat starts to overspill.
Remember to save some of the leftover Goose fat for cooking your roast potatoes and parsnips
Trimmings
Along with birds, you may also be looking at other meats to have with your Christmas dinner. Pigs in blankets are a favourite with families over the festive season and bacon is great for cooking with your Turkey to keep the meat moist. Chipolatas also make great trimmings for Christmas meals too, and salmon is often used as part of a vegetarian option or for breakfast dishes. Vegetables are also an essential part of Christmas cooking and at Graig Farm we offer a selection of boxed organic vegetables including cabbage, carrots, potatoes and cauliflower.