Organic Meat at Christmas
Organic Meat at Christmas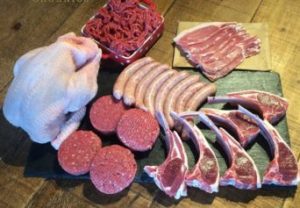 Here at Graig Farm although we think that organic meat isn't just for Christmas, we can appreciate that our customers may want to indulge a little more during the festive period. With this in mind we want to give you a heads up on the latest tasty treats that you may just want to explore further!

Organic Turkey
When it comes to Christmas day turkey really is the star of the show when dinner time arrives. We are proud to offer both whole and crown cuts in a variety of different sizes, allowing you to choose the perfect bird for your family meal. Each of our Organic Turkeys are produced to full Soil Association organic standards on our small family farm in Herefordshire.

When it comes to cooking your turkey on Christmas Day it is essential you allow it to reach room temperature prior to cooking. Cover the bird loosely with tinfoil, but remove 45 minutes before the time is up to ensure your turkey browns nicely. A handy tip to ensure that your organic produce stays moist and juicy, add stock to the roasting tray and place the bird on a rack above. It is essential that after you have cooked your organic turkey, that you let the meat rest prior to carving. Not only will this let the meat relax but it will also make the cutting process a lot easier and neater.
Goose
Although it may not be for everyone, Goose is also a popular when it comes to Christmas dinner. If you're looking for a rich and succulent option then this festive option is a dish that we know the whole family will love. Here at Graig Farm, we think a goose can be a real show stopper, especially if you're feeding a large group!
When it comes to cooking your organic goose, we would advise 15 minutes per 500g plus an extra 30 minutes for browning. It is essential that you monitor the meat whilst cooking, you may find that the roasting tray fills up with fat quickly. Keep any leftover goose fat as this is the perfect thing for cooking potatoes and parsnips in!
Organic Salmon
For those who are not a fan of meat, Organic Salmon is a popular alternative. For some salmon is used as a starter during a three course Christmas banquet - we will leave the courses up to you! We offer an excellent range of salmon cuts as well as smoked salmon - the perfect treat on Christmas morning.
At Graig Farm it doesn't stop there, we offer all the trimmings to complete the meal. From Organic Vegetables to Sausages, Bacon and much more!