Get The Most Out Of Your Organic Meat
Get The Most Out Of Your Organic Meat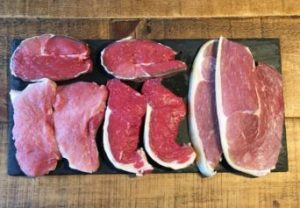 Choosing organic meat is an excellent way to make a positive change in your diet, allowing you to feel good about what you're consuming. Not only are you supporting family run farms, but you are also bringing food to the table that has been cultivated following strict requirements. Once you have selected the meat for you, it is important to take the time to ensure you don't waste any of the meat unnecessarily. Here at Graig Farm we have put together our handy hints and tips on how to make the most out of your organic meat - read below to find out more!
Meal Plans & Budgets
Planning your meals can really ensure you don't waste food unnecessarily. Whether you're cooking for yourself, your partner or your whole family it is essential to stick to a plan during the week. Organic meat may seem like a costly choice, however if your meals are planned and you don't waste food daily, you will find that your meat lasts longer. If you are the kind of person who will find it hard to stick to a meal plan, why not consider budgeting your weekly food shop also. Having a strict budget will allow you to cut erratic spending and promote responsible spending on a weekly basis.
Portion Control
A way to ensure that no food is wasted in the household is to learn how to portion food when you purchase it. Portioning meat prior to cooking it is an excellent way to ban wasting food. When you think of your diet, organic meat and dairy products are a weekly necessity, portioning these items and freezing them can cut of wasting these food groups.
Organic meat tends to be slightly more expensive than your usual conventional meat, so naturally you want it to last longer. But other than storing your meat correctly and portion control what can you do to make your organic food go further?
Select Meat Carefully
Choosing the right cut can be vital when you're looking to get the most out of your organic meat. There are a large variety of meat cuts that lend themselves to a range of recipes, so ensure you have the right cut for your meal. Fillets, rumps and rib-eye steaks are the best choice for those who want to cook something and quick! For those with a little more time on their hands braising steak and spare ribs can be done in the slow cooker, for that perfect one pot meal.
Organic Chicken
If chicken is a winning choice in your home then why not consider buying a whole organic chicken instead of just the breast, legs or wings. A whole organic chicken is less per pound, compared to portions which are generally more expensive per pound. With this you are able to use all the chicken, even the carcass - try making your own chicken broth!
Freeze Organic Meat
Organic meat is free of preservatives, due to this it tends to go off quicker if not addressed on the day of purchase.The best way to combat this is by freezing your chosen organic meat once you get it home. This way you are preventing the meat from going off quicker and you also get the opportunity to portion the meat in advance.
Here at Graig Farm we are proud to offer an excellent selection of Organic meat and vegetables, that we hope you will love just as much as us.