What is an Organic Butcher?
What is an Organic Butcher?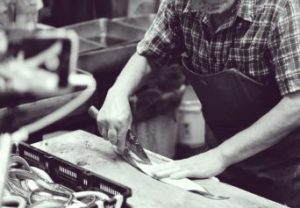 Here at Graig Farm Organics, all of the butchery and processing is carried out at our processing facilities. Our team is dedicated to ensuring high standards are maintained at all times so that our customers receive the highest quality produce.
About our team
Our Head Butcher, Mark Stephens, has been in the trade for 35 years and learned his expertise in a local high street shop. He now passes his knowledge on to the rest of our butchery team on the farm so we can provide you with the best cuts of organic meat.
Our produce
We have a huge selection of award-winning organic produce that's available to order online for your convenience. Choose from succulent chicken, beef, lamb and pork as well as condiments and fresh vegetables. You can rest assured that our organic food is 100% free from preservatives, growth hormones and GMOs.
Why not browse our library of tasty recipes?