Rose Veal Meatballs Recipe
Rose Veal Meatballs Recipe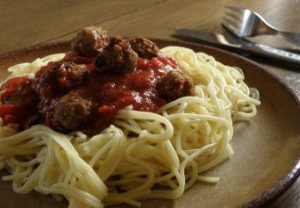 Homemade spag bol is one of easiest and tastiest dishes. You can tweak this classic meal by using Rose veal meatballs instead. They're rich in flavour and quick to prepare, making them a great weeknight meal.
Ingredients
450g Veal Mince
1 cup soft breadcrumbs
1 egg slightly beaten
½ onion finely chopped
2 tablespoons finely chopped parsley
1 large or 2 small garlic cloves crushed
Large pinch of salt and ground black pepper to season
Grated parmesan cheese
For the sauce
2 teaspoons extra virgin olive oil
½ onion finely chopped
½ teaspoon crushed garlic
1 tin whole tomatoes
3 tablespoons tomato paste
1 teaspoon Italian seasoning
Large pinch of salt and ground black pepper to season
A pinch of sugar
1 tablespoon parmesan
Method
Prepare the sauce. In a saucepan, heat the oil over a medium heat. Once hot, add the onion and garlic, cook and stir for 2 mins until soft and turning brown.
Add the tomatoes and stir in the tomato paste, Italian seasoning, salt, sugar and pepper.
Bring to the boil then reduce heat and simmer for 20 mins until sauce thickens, stirring occasionally.
Remove from the heat and keep warm.
Prepare the meatballs – can be done before sauce if preferred. Preheat oven 350 F/175C. Mix the veal mince, breadcrumbs, egg, onion, parsley, garlic, salt and pepper. Mix thoroughly.
Once mixed, make the meatballs. Should be able to make 12 from the mix.
Arrange meatballs in a non-stick or greased oven dish, bake for 20 mins or until centre of meatball is no longer pink, turning once.
Stir in 1 tablespoon of parmesan into the warm sauce. We suggest 3 meatballs per serving with spaghetti or pasta and smother with equal amounts of the prepared sauce. Sprinkle with grated parmesan to finish.
 
Want to try this recipe with a different meat? See our organic turkey mince, pork mince and lamb mince.